At our headquarters, we operate two labs: the Printed Electronics (SPEL) and Solution Coating.

in roll-to-roll process since its foundation and we acquired much know-how on the precision printing
and coating for the OPVs (organic photovoltaics) and printed circuits; especially slot-die coating of
ultra-thin layers and conductive metal patterns like RFID antenna. We are looking for opportunities to
expand our roll-to-roll technology for the future production processes. Currently we are conducting
three government funded research project for OPVs and printed circuits.
Our Solution Coating Lab first opened in 2016 and ran many trials such as adhesive coating and barrier coating
including laminating process. The solution line has a production scale working width of max. 1060 mm and
runs up to 1.000 m/min. Several of these trials include unique items like battery, EMI shielding and hydrophobic
paper. All of these trials were done in our clean room facility with the various interchangeable module coating
methods.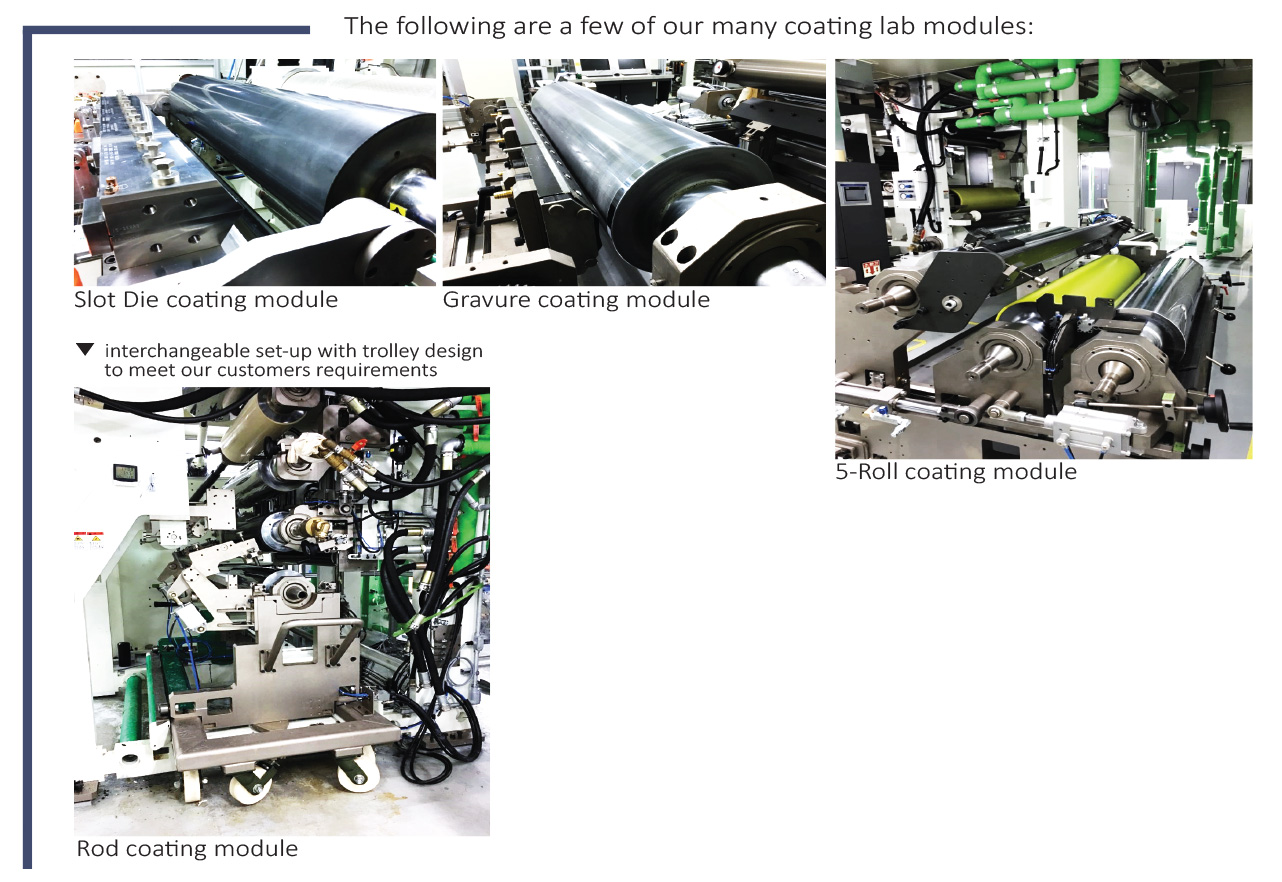 With the roll to roll coating machines in our facility, we are able
to show all state-of-the-art coating methods presently available
on the market. So our customers are greatly benefiting from our
expertise and knowledge during trial runs with their substrates
and coating media.
However, the lines in our Labs are not only for our customers,
but also serve us to internally develop and finetune the converting
process of web like materials, like e.g. finetune new coating methods
or develop new dryer configurations. Practical experiences gained
in these test runs can be converted in theoretic calculation models,
e.g. in regards to the drying process.
But also, the machines are available for substrate suppliers, e.g. paper manufacturers to test new coatings
on their materials to develop and examine new paper grades under production conditions at high speeds
with the solution line. The trials done in small scale on our 300mm wide line can be transferred without
any issues to the 1.060mm wide production line.
Please contact us to schedule your next trial!
Website: http://www.sungan.net/en/?c=rnd&s=1
Contact: tech@sungan.net​